13th Annual CBA Conference – Navigating Life During the Pandemic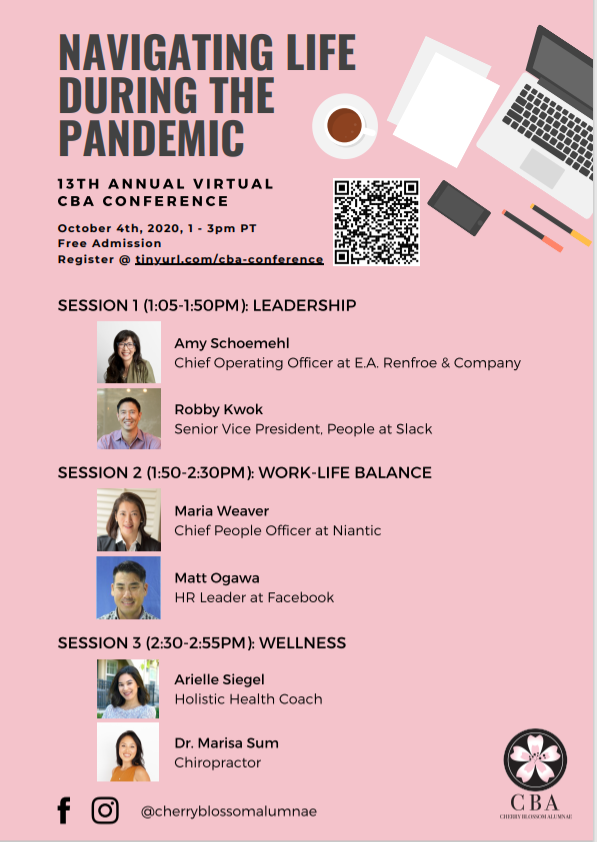 We know life is difficult right now – this year's theme is Navigating Life During the Pandemic, discussing 3 topics: Leadership, Work-Life Balance and Wellness (including healthy eating and ergonomics for your home office). We have some amazing speakers including:
Amy Schoemehl, COO at E.A. Renfroe (and 2000 Cherry Blossom Queen)
Robby Kwok, SVP at Slack (and husband of 2001 Cherry Blossom Queen Emi Yoshioka Kwok)
Maria Weaver, CPO at Niantic (and 1993 Cherry Blossom Queen)
Matt Ogawa, HR Leader at Facebook (and active JA community leader)
Arielle Siegel, Holistic Health Coach (and daughter of 1982 Cherry Blossom Queen Rene Shimada Siegel)
Dr. Marisa Sum, Chiropractor (and 2016 First Princess)
Please sign up for this event
here
. Note that we are offering this event to the wider Asian American community, including some Asian Employee Resource Groups (ERGs) at companies like Facebook, Google, Adobe and Autodesk, so we expect a high turnout so be sure to sign up right away. Please note that the event is free, and we are collecting donations to support the local businesses in SF and SJ Japantowns who are struggling during this pandemic.
A big thank you to CBA board member Kaori Iida ('11) for organizing and leading the CBA conference this year, with fantastic support from CBA board members Kelli Sum ('15), Lauren Kawawaki ('11), Rachel Kawawaki ('18), and Yuki Nishimura ('19).